Community Lunch
There will be no community lunch in June, July, and August. We will resume in September.
Vacation Bible School – July 21st—July 25th 


Faith, Mt Tabor, and OSLC are joining forces again for a great VBS series, ROAR! The
program will be July 21st to 25th. Nightly schedule will be:
5:15 Dinner
5:40 VBS for kids begins
6:20 Adult VBS begins
7:20 Adult VBS ends
7:40 VBS for kids ends
Pastor Lance will be leading the adult series. If you have children, grandchildren, neighborhood kids to invite Registration forms are in the Cameron Hallway. There is also a sign-up sheet for the adults. Particularly important to sign up if you plan on enjoying the
meals.
Operation Christmas Child

We are starting off early this year collecting items for the Operation Christmas Child shoeboxes. We will be highlighting different types of items each month, between now and November.
For June we are collecting "TOYS." Examples are: small stuffed toys, balls, beads, dolls, ribbons, miniature cars and trucks, yoyos. Remember these have to fit in a "shoebox"
size container, along with many other items.
A collection box will be in the Cameron Hallway.
Many of these items can be purchased at Dollar Stores and at Walmart. Look for
bargains!
We will do noisy offerings on June 30th and then again in November to help with shipping
costs of the shoeboxes. So start saving your change now!
Our 2019 goal is to pack 150 shoeboxes. If you need a personal shopper, see Loleta Keitt.
God's Helping Hands has a need for jello, peanut butter, and crackers. In addition, there is a need for sugar, canned peas, juice, and toothpaste. Items may be brought to the church and placed in the boxes which are located in the Cameron Hallway.
Welcome/Welcome Home Sunday will be October 6. 2019. You all know what a great
time this celebration is—great worship, wonderful fellowship, and long tables full of delicious food. Please make sure you have this date on your calendar as we gather
together to give thanks to God for the history, life, and future of this congregation.
SRAA Healthy Snacks
We continue to collect healthy snacks for students at SRAA. Students in need are given a bag with healthy snacks each Friday to put in their book bag to have over the weekend. We will collect snacks the first two Sundays of each month during the school year. The box for collection of these snacks will be in the Narthex. Thank you again for your continued support.
Notecards for Sale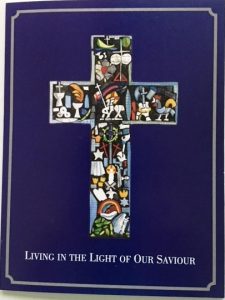 These beautiful all-purpose notecards and envelopes are available for purchase in packs of 10 for $5. Proceeds will go toward supporting a local charity. Purchases can be made by contacting Marie Lybrand, Kelly Heid, or Pam Hanfland.