Links to Daily Prayer (M-F) and Sundays Sermons
can be found on YouTube at
https://www.youtube.com/channel/UCOORY1daJLd0JCvWrjwUAww
or Facebook at https://www.facebook.com/scsynod
Acting on the strong recommendation of Bishop Herman Yoos and the advice of President Trump, the church council has approved the cancellation of ALL events at Our Saviour Lutheran Church.
2020 Retreat  "Each One Can Reach One"
Rebekah Circle is hosting the 2020 OSLC-WELCA Retreat on Saturday, August 22 at our church. This one-day retreat promises to be a wonderful event. The day will begin with check-in at 9:30 a.m. Our own Rev. Mary Havens will "jumpstart" the morning with an inspirational program. After lunch, our featured speaker will be Cherie Nettles, a well-known Christian humorist, speaker, and writer. Plan now to attend for inspiration, fellowship, and surprises. Family and friends are invited! Tickets are now on sale for $25 per person (includes lunch) and can be purchased from Linda Hill or Linda Griffith.
God's Helping Hands needs are for cereals, jello, and canned goods.
SRAA Healthy Snacks
We continue to collect healthy snacks for students at SRAA. Students in need are given a bag with healthy snacks each Friday to put in their book bag to have over the weekend. We will collect snacks the first two Sundays of each month during the school year. The box for collection of these snacks will be in the Narthex. Thank you again for your continued support.
Notecards for Sale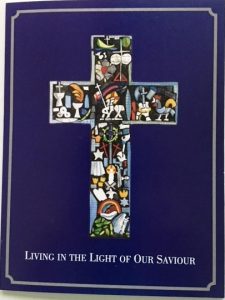 These beautiful all-purpose notecards and envelopes are available for purchase in packs of 10 for $5. Proceeds will go toward supporting a local charity. Purchases can be made by contacting Marie Lybrand, Kelly Heid, or Pam Hanfland.