Women Of the ELCA Sunday will be held on October 14th during the worship service at 10:30 am. The Rev. Dr. Mary Havens will lead the worship and deliver the sermon. Ladies of the congregation will serve as choir members, ushers, acolyte, and crucifer. Please mark your calendar to attend.
Welcome Home Sunday, hosted by the Elderberries, will be held on Sunday, October 21 at 10:30 am. All past and present members, families and friends, and community neighbors are invited to join us.
A covered dish luncheon will be held in the Fellowship Hall following the worship service. The Elderberries will provide the meats, and members are asked to bring their favorite side dishes and desserts to share.
Please plan to attend and bring your families and friends to worship, reminisce with your brothers and sisters in Christ and enjoy a great meal provided by Our Saviour's awesome cooks. This is always a special event for our congregation and we look forward to sharing the day with you.
Sunday School begins at 9:15 am in the chapel and the worship service begins at 10:30 am in the sanctuary. The luncheon will immediately follow in the Fellowship Hall.
Last year was our 60th anniversary here at Our Saviour and our theme was "Built on a Rock". That rock continues to keep us strong in our love of Christ and our dedication to our Church and carrying out God's mission. See you on October 21 for Welcome Home!

When: Sunday, October 28, 2018 5:30 – 7:30 PM
Where: Our Saviour Lutheran Church Parking Lot
Who: Open to the community
Join us for a spooktactular evening of fun and fellowship while reaching out to our local community. We are asking for:
1.Volunteers to decorate their vehicle trunks for Halloween and dress in costume according to their theme.
2.Donations from the congregation of candy and goodies for the trunk or treaters.
3.Volunteers to assist and direct traffic.
All participants with their cars need to arrive by 4:30 pm for set up. There will be a sign-up board and a donation box in the Narthex. Hosted by the Social Ministry Committee. For further information, please contact Gail Marcum at 803-397-9272.
Please feel free to invite family, friends, and neighbors. This event is open to the community.
All Saints' Day will be observed on November 4, 2018. If you had a loved one pass into the Church Triumphant after November 5, 2017 and would like them remembered during this year's All Saints' Day worship please notify the Church office.
2019 WELCA RETREAT
WHERE: Coastal Retreat Center Isle of Palms, SC
DATES: May 3-5, 2019
WHO: All ladies of Our Saviour and guests are invited to attend
The Lydia Circle will be hosting the 2019 Retreat. All ladies of the Church and their family/friends are welcome and encouraged to attend. The first deposit of $50 will be due on November 4, 2018. Please make your check payable to OSLC-WELCA and mark for the 2019 WELCA Retreat. Marie Lybrand will be taking your reservation.
The Lydia Circle hostesses will be providing transportation for those of you who would like to ride with someone. We will be your "Uber" for the weekend.
More details will follow but wanted you to get the dates on your calendar for 2019 and get started on our payment schedule. Should you have any questions, contact Marie Lybrand or Ann Satterwhite.
.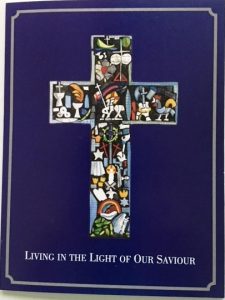 Notecards for Sale
These beautiful all-purpose notecards and envelopes are available for purchase in packs of 10 for $5. Proceeds will go toward supporting a local charity. Purchases can be made by contacting Marie Lybrand, Kelly Heid, or Pam Hanfland.
God's Helping Hands needs are for Jello, Jiffy Mix, tuna, bags of rice, canned milk, cooking oil, bed sheets, and bath soap. Items may be brought to the church and placed in the boxes which are located in the Cameron Hallway.
Operation Christmas Child
There is a box in the Cameron Hallway where we are collecting items for the shoeboxes which we will send to Samaritan's Purse in November. During October, we are collecting toy, such as miniature trucks and cars, dolls, balls (like tennis ball size), yo-yo's and items that will bring joy to a child this Christmas. Monetary donations are always welcome. Please make check payable to OSLC and on the memo line indicate it is for "Christmas Child."
Community Lunch will be served on Wednesday, October 31 at noon. Invite your friends and neighbors to attend.
SRAA Healthy Snacks
We continue to collect healthy snacks for students at SRAA. Students in need are given a bag with healthy snacks each Friday to put in their book bag to have over the weekend. We will collect snacks the first two Sundays of each month during the school year. The box for collection of these snacks will be in the Narthex. Thank you again for your continued support.