In-Person Worship has been Suspended
Our Saviour Lutheran Church is suspending all in-person worship.   Our plan is to resume in-person worship on Sunday, February 28.  We will re-assess the situation in the middle of February. 
Watch Sunday Worship live on Our Saviour Lutheran Church's Facebook page

(http://tiny.cc/oslcfb)
If you prefer audio only, you can listen to the sermon by going to The Weblog of Pastor Lance Henderson (http://gointhismightofyours.blogspot.com). At the end of the post click on the words click HERE.
The Worship Bulletin, the Celebrate with scripture readings, and the Announcements listing the hymns can be

located on the menu under News and Resources

.
Daily Prayers are uploaded to the Facebook page (http://tiny.cc/oslcfb) and YouTube channel (http://tiny.cc/oslcyt) each Monday-Friday.
---
God's Helping Hands current needs are for canned sweet peas, oatmeal, grits, shampoo, and toothpaste. Please place donations in the provided box in the Cameron Hallway.
SRAA Healthy Snacks
We continue to collect healthy snacks for students at SRAA. Students in need are given a bag with healthy snacks each Friday to put in their book bag to have over the weekend. We will collect snacks the first two Sundays of each month during the school year. The box for collection of these snacks will be in the Narthex. Thank you again for your continued support.
Notecards for Sale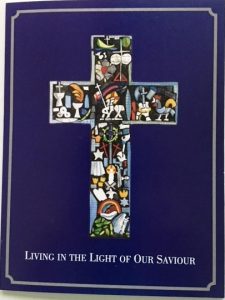 These beautiful all-purpose notecards and envelopes are available for purchase in packs of 10 for $5. Proceeds will go toward supporting a local charity. Purchases can be made by contacting Marie Lybrand, Kelly Heid, or Pam Hanfland.