Lutheran Men in Mission will have their annual Christmas party at 7 pm on Monday, December 10. There will be a catered meal and a performance by the Called Quartet of Lexington Baptist Church. Tickets are $25 per couple and $15 single and may be purchased from Charles Nicholson.
2019 Church Directory Sunday is the last day to sign up for the 2019 ministries you would like to serve. Don't forget to check the church directory membership to make sure the information for your family is accurate. Contact Pam Hanfland if you have a picture that you would like to use or would like us to have a new photo taken. As always, if you have any questions, feel free to contact Pam Hanfland.
Longest Night Service
Christmas can be painful time for some. It may be the first Christmas without a loved family member; it may be a time that has always been difficult. The constant refrain on the radio and television, in shopping malls and churches, about the happiness of the season, about getting together with family and friends, reminds many people of what they have lost or have never had. The anguish of broken relationships, the insecurity of unemployment, the weariness of ill health, the pain of isolation—all these can make us feel very alone in the midst of celebrating and spending. We need the space and time to acknowledge our sadness and concern; we need to know that we are not alone.
For these reasons, Our Saviour, Mt. Hermon, Mt. Tabor, and Faith are offering a special "Longest Night" service on December 21 at 4:00 pm at Our Saviour Lutheran Church. Come and join us for a service of Scripture, music, communion and prayers for healing that acknowledges that God's presence is for those who mourn, for those who struggle—and that God's Word comes to shine light into our darkness.
The Our Saviour Post Office is open for business from Sunday December 2 to Sunday, December 23. Bring your Christmas cards for members of Our Saviour and place the cards in the appropriate boxes in the narthex. Please include the first and last name of the recipient on the envelope. No stamp required!
Merry CHRISTmas!
2019 WELCA RETREAT
WHERE: Coastal Retreat Center Isle of Palms, SC
DATES: May 3-5, 2019
WHO: All ladies of Our Saviour and guests are invited to attend
The Lydia Circle will be hosting the 2019 Retreat. All ladies of the Church and their family/friends are welcome and encouraged to attend. The first deposit of $50 will be due on November 4, 2018. Please make your check payable to OSLC-WELCA and mark for the 2019 WELCA Retreat. Marie Lybrand will be taking your reservation.
The Lydia Circle hostesses will be providing transportation for those of you who would like to ride with someone. We will be your "Uber" for the weekend.
More details will follow but wanted you to get the dates on your calendar for 2019 and get started on our payment schedule. Should you have any questions, contact Marie Lybrand or Ann Satterwhite.
Notecards for Sale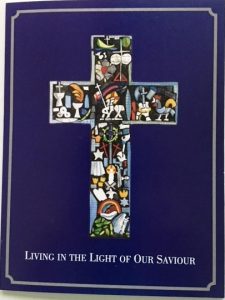 These beautiful all-purpose notecards and envelopes are available for purchase in packs of 10 for $5. Proceeds will go toward supporting a local charity. Purchases can be made by contacting Marie Lybrand, Kelly Heid, or Pam Hanfland.
God's Helping Hands God's Helping Hands has a desperate need for *jello, *peanut butter, and *crackers. In addition there is a need for sugar, canned
peas, juice, and toothpaste. Items may be brought to the church and placed in the boxes which are located in the Cameron Hallway.
*Need is urgent
SRAA Healthy Snacks
We continue to collect healthy snacks for students at SRAA. Students in need are given a bag with healthy snacks each Friday to put in their book bag to have over the weekend. We will collect snacks the first two Sundays of each month during the school year. The box for collection of these snacks will be in the Narthex. Thank you again for your continued support.