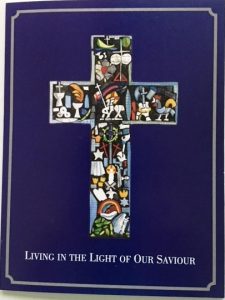 Notecards for Sale
These beautiful all-purpose notecards and envelopes are available for purchase in packs of 10 for $5. Proceeds will go toward supporting a local charity. Purchases can be made by contacting Marie Lybrand, Kelly Heid, or Pam Hanfland.
Conference Room Dedication

Our long-awaited Conference Room renovation is complete. On Sunday, August 19 at 9:45 am, there will be a brief dedication held in the conference room. This project was completed through many generous memorial and gift contributions to the Conference Room Fund. Together, and with the consent of our Congregation Council, we will dedicate this beautiful room with joyous thanksgiving to the glory of God.
Please mark your calendar to join us for the dedication, along with
refreshments and fellowship during Chat & Snack on August 19th. Sunday School will be dismissed 15 minutes early.
God's Helping Hands needs are for Jello, Jiffy Mix, tuna, bags of rice, canned milk, cooking oil, bed sheets, and bath soap. Items may be brought to the church and placed in the boxes which are located in the Cameron Hallway.
Operation Christmas Child
There is a box in the Cameron Hallway where we are collecting items for the shoeboxes which we will send to Samaritan's Purse in November. During August, we are collecting school supplies and clothing items. Monetary donations are always welcome. Please make check payable to OSLC and in the memo line indicate it is for "Christmas Child."
SRAA Healthy Snacks
We continue to collect healthy snacks for students at SRAA. Students in need are given a bag with healthy snacks each Friday to put in their book bag to have over the weekend. We will collect snacks the first two Sundays of each month during the school year. The box for collection of these snacks will be in the Narthex. Thank you again for your continued support.