Trunk or Treat
When: Sunday, October 27, 2019
5:00 – 7:00 PM
Where: Our Saviour Lutheran Church
Parking Lot
Who: Open to the community
Join us for another spooktactular evening of fun and fellowship while reaching out to our
local community. We are asking for: volunteers to decorate their vehicle trunks for Halloween and dress in costume for their theme; donations from the congregation of
candy and goodies for the trunk or treaters; and, volunteers to assist with games and a
welcome table. The Saluda Gardens Neighborhood Association has graciously volunteered to provide 10-12 decorated vehicles to make our event even bigger and better! Be sure to spread the word to your friends, neighbors, and family. There will be a sign-up board and a donation box in the Narthex. Hosted by the Service and Charitable Works Team. For further information, please contact Gail Marcum at 803-397-9272.
Community Lunch
Our next Community Lunch will be served on Wednesday, October 30 at noon. Please
join us and bring friends and neighbors.
All Saints Sunday
All Saints' Day will be observed on November 3, 2019. If you had a loved one pass into the Church Triumphant after November 4, 2018 and would like them remembered during this year's All Saints' Day worship please notify the Church office.
Operation Christmas Child

The time is NOW! For the last few months we have been collecting various items for the shoeboxes that we pack for Operation Christmas Child.
In October we are collecting personal care items. Examples are toothbrushes (no toothpaste), combs, brushes, washcloths, bar soap, band aids, emory boards, non,
liquid lip balm. Remember these have to fit in a "shoebox" size container, along with many other items. A collection box will be in the Cameron Hallway.
Many of these items can be purchased at Dollar Stores and at Walmart. Look for bargains!
We will do a noisy offering again on September 29 and again on December 1 to help with shipping costs of the shoeboxes. So start saving your change now!
Our 2019 goal is to pack 100 shoeboxes. If you need a personal shopper, see Loleta Keitt.
Operation Christmas Child Pizza Packing Party,  November 17, 4-6:30 PM
Thanksgiving Service, November 26, 7:00 PM at Congaree Presbyterian
Longest Night Service, December 21 , 4:00 PM
 Christmas Eve Service, December 24,  5:00 PM
God's Helping Hands needs flour, vegetable oil, jelly, and boxed Mac & Cheese. Items may be brought to the church and placed in the boxes which are located in the Cameron Hallway.
OSLCWELCA One-Day Retreat
Save the Date – Saturday, April 18, 2020 — OSLCWELCA One-Day Retreat to be held at Our Saviour in the Fellowship Hall. All women of the church and guests are welcome. More details to follow.
SRAA Healthy Snacks
We continue to collect healthy snacks for students at SRAA. Students in need are given a bag with healthy snacks each Friday to put in their book bag to have over the weekend. We will collect snacks the first two Sundays of each month during the school year. The box for collection of these snacks will be in the Narthex. Thank you again for your continued support.
Notecards for Sale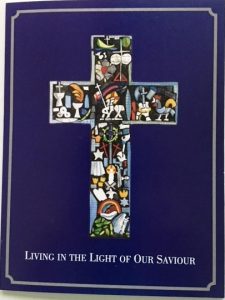 These beautiful all-purpose notecards and envelopes are available for purchase in packs of 10 for $5. Proceeds will go toward supporting a local charity. Purchases can be made by contacting Marie Lybrand, Kelly Heid, or Pam Hanfland.