2020 Church Directory
Please take a moment to sign up for the 2020 ministries you would like to serve. Don't forget to check the church directory membership to make sure the information for your family is accurate. Contact Pam Hanfland if you have a picture that you would like to use or would like to have a new photo taken. As always, if you have any questions, feel free to contact Pam Hanfland.
Midweek Advent Dinner and Worship will be at Faith Lutheran Church on
Wednesday December 4, 11, & 18. Dinner will be served at 5:15 pm. The worship
service begins at 6:00 pm. This is a joint service with Faith, Mt .Tabor, and OSLC.
Our Community Lunch program has started up again. Our next lunch will be served on Wednesday, December 18 at noon. Please join us and bring friends and neighbors.
Longest Night Service, December 21 , 4:00 PM
Once again, OSLC is hosting a Longest Night Service on Saturday, December 21 at 4:00pm. With all the merriment of the holidays, people bearing burdens can feel guilty about their grief. A Longest Night service is a time to come together for Prayer, Holy Communion, and Healing. We invite all to come to this service or more importantly invite someone you may know who would benefit from this service. This is a co-operative worship service of Faith, Mt. Hermon, Mt. Tabor and Our Saviour Lutheran Churches.

Christmas Eve Service, December 24,  5:00 PM
Fifth Sunday Worship
Join us December 30 at 10:30. in the fellow-ship hall for Lessons & Carols. We will get to sing all the Christmas hymns we missed. (Except for one that Pastor likes, but nobody knew how to sing )
God's Helping Hands needs are for crackers, cookies, spaghetti sauce, green peas, and canned meat. Please place items in the box in the Cameron Hallway.
OSLCWELCA One-Day Retreat
Save the Date – Saturday, April 18, 2020 — OSLCWELCA One-Day Retreat to be held at Our Saviour in the Fellowship Hall. All women of the church and guests are welcome. More details to follow.
SRAA Healthy Snacks
We continue to collect healthy snacks for students at SRAA. Students in need are given a bag with healthy snacks each Friday to put in their book bag to have over the weekend. We will collect snacks the first two Sundays of each month during the school year. The box for collection of these snacks will be in the Narthex. Thank you again for your continued support.
Notecards for Sale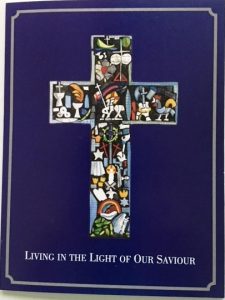 These beautiful all-purpose notecards and envelopes are available for purchase in packs of 10 for $5. Proceeds will go toward supporting a local charity. Purchases can be made by contacting Marie Lybrand, Kelly Heid, or Pam Hanfland.