2019 WELCA RETREAT
WHERE: Coastal Retreat Center Isle of Palms, SC
DATES: May 3-5, 2019
WHO: All ladies of Our Saviour and guests are invited to attend
The Lydia Circle will be hosting the 2019 Retreat. All ladies of the Church and their family/friends are welcome and encouraged to attend. The first deposit of $50 will be due on November 4, 2018. The next payment of $50.00 will is due February 17, 2019. Please make your check payable to OSLC-WELCA and mark for the 2019 WELCA Retreat. Marie Lybrand will be taking your reservation. The deadline for attending and/or canceling will be March 31. The Retreat Center will not accept changes after 30 days prior to our arrival date.
The Lydia Circle hostesses will be providing transportation for those of you who would like to ride with someone. We will be your "Uber" for the weekend.
More details will follow but wanted you to get the dates on your calendar for 2019 and get started on our payment schedule. Should you have any questions, contact Marie Lybrand or Ann Satterwhite.
Notecards for Sale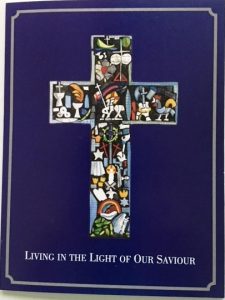 These beautiful all-purpose notecards and envelopes are available for purchase in packs of 10 for $5. Proceeds will go toward supporting a local charity. Purchases can be made by contacting Marie Lybrand, Kelly Heid, or Pam Hanfland.
God's Helping Hands God's Helping Hands has a desperate need for *jello, *peanut butter, and *crackers. In addition there is a need for sugar, canned
peas, juice, and toothpaste. Items may be brought to the church and placed in the boxes which are located in the Cameron Hallway.
*Need is urgent
SRAA Healthy Snacks
We continue to collect healthy snacks for students at SRAA. Students in need are given a bag with healthy snacks each Friday to put in their book bag to have over the weekend. We will collect snacks the first two Sundays of each month during the school year. The box for collection of these snacks will be in the Narthex. Thank you again for your continued support.