Ash Wednesday Services will be at 7:30 am and at 7:00 pm
Shrove Tuesday
Call it "Mardi Gras" or "Fat Tuesday" or even "Shrove Tuesday" it is all the same, and all happening at Our Saviour Lutheran Church on Tuesday, February 25, beginning at 6:00 pm. There will be the traditional pancakes, sausages, and King Cake! In addition, we will have BEADS, BINGO, and, maybe even some, BUFFOONERY!
TIME: 6:00 PM-7:45 PM
BRING: 3 Bingo prizes
1. Food item (candy, beets, $5.00 gift card (Starbucks) beef jerky)
2. Fun item (joke item, white elephant)
3. Favorite item (something that you would choose for yourself as a bingo prize, book, picture frame, puppy, pens, candle)
Before noon on the 25th, drop off your Bingo prizes to the church office or give to Melodie.
This is seriously fun business! Sign up sheet in the narthex.
We will be serving Lenten meals on two Wednesdays during the Lenten season. The dates are March 4 and April 1.
The first Lenten meal will be on Wednesday, March 4 at 5:30 pm.  Lasagna, salad, and bread will be served. A sign-up sheet is provided in the Narthex.
God's Helping Hands needs are for jello, pudding, canned stews, canned chicken & dumplings, and any kind of canned meat. Please place items in the box in the Cameron Hallway.
WELCA is in the process of digitizing all our records.
In doing so, we have found a lot of information missing — lists of officers, minutes/agenda from old executive board and general meetings, retreat information, etc. since 1957.  We are missing a lot of information during the 90s.  If anyone has any type of information referencing Our Saviour's Women, please call Linda Griffith (359-1278).
2020 Retreat  "Each One Can Reach One"
Rebekah Circle is hosting the 2020 OSLC-WELCA Retreat on Saturday, April 18th at our church. This one-day retreat promises to be a wonderful event. The day will begin with check-in at 9:30 a.m. Our own Rev. Mary Havens will "jumpstart" the morning with an inspirational program. After lunch, our featured speaker will be Cherie Nettles, a well-known Christian humorist, speaker, and writer. Plan now to attend for inspiration, fellowship, and surprises. Family and friends are invited! Tickets are now on sale for $25 per person (includes lunch) and can be purchased from Linda Hill or Linda Griffith. Deadline for registration and payment is March 15th. Please sign up early so the Rebekah Circle can finalize plans for the event. Flyers are available in the Narthex, or contact a Rebekah Circle member for copies to share with your family and friends!
SRAA Healthy Snacks
We continue to collect healthy snacks for students at SRAA. Students in need are given a bag with healthy snacks each Friday to put in their book bag to have over the weekend. We will collect snacks the first two Sundays of each month during the school year. The box for collection of these snacks will be in the Narthex. Thank you again for your continued support.
Notecards for Sale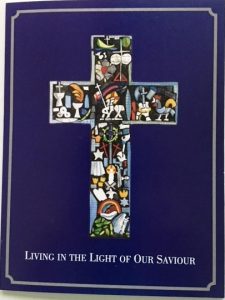 These beautiful all-purpose notecards and envelopes are available for purchase in packs of 10 for $5. Proceeds will go toward supporting a local charity. Purchases can be made by contacting Marie Lybrand, Kelly Heid, or Pam Hanfland.