Join us for In-Person Worship or Facebook Live-Stream.
Watch Sunday Worship live on Our Saviour Lutheran Church's Facebook page

(http://tiny.cc/oslcfb)

 or later on our YouTube ch

annel (http://tiny.cc/oslcyt)
If you prefer audio only, you can listen to the sermon by going to The Weblog of Pastor Lance Henderson (http://gointhismightofyours.blogspot.com). At the end of the post click on the words click HERE.
The Worship Bulletin, the Celebrate with scripture readings, and the Announcements listing the hymns can be

located on the menu under News and Resources

.
---
2021 WELCA Retreat
Hosted by the Lydia Circle

Saturday, August 7, 2021
10:00 am – 2:00 pm
We are honored to have Mrs.  Kelly Coakley as our guest speaker.  Kelly is the wife of Pastor Eddie Coakley of Trinity Baptist Church, was a former news reporter and TV news anchor, and is currently employed as the Director of Strategic Communications at the SC Department of Administration.  Kelly will be speaking on "Lessons from the Holy Land" and will take us to her travels of the Holy Land and will share her knowledge and love of the Word.   In addition to experiencing the Holy Land through Kelly's travels, we will also be serving some of the foods that were eaten in Biblical times and shared by Jesus and his followers.
Registration begins at 9:30—Lunch included
$25 a person should be given to Ann Satterwhite.
Checks should be made payable to OSLC-WELCA and marked for 2021 WELCARetreat, Limited to 50 participants
Deadline to register is July 15
Shred Event
It's that time again.  Our Saviour will be sponsoring a shred day on Saturday, August 21 from 9 to noon.  Bring your items along with non-perishable food items for God's Helping Hands as a donation between 9 am and noon.  Folks will be on hand to help get your shredding and donations.  Contact Linda Griffith if you can help us for an hour or three or sign-up on the volunteer sheet on the bulletin board.  Look forward to seeing you all in line that morning!   The event is being funded through a Thrivent Action Team donation. 
God's Helping Hands current needs are for canned pasta (spaghetti, ravioli, etc. in
tomato sauce) and green peas.  Please place donations in the provided box in the Cameron Hallway.
SRAA Healthy Snacks

We continue to collect healthy snacks for students at SRAA. Students in need are given a bag with healthy snacks each Friday to put in their book bag to have over the weekend. We will collect snacks the
first two Sundays of each month
during the school year. The box for the collection of these snacks will be in the Narthex. Thank you again for your continued support.
Notecards for Sale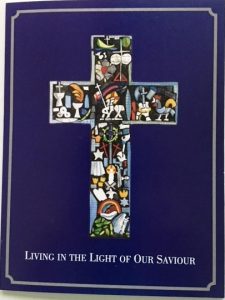 These beautiful all-purpose notecards and envelopes are available for purchase in packs of 10 for $5. Proceeds will go toward supporting a local charity. Purchases can be made by contacting Marie Lybrand, Kelly Heid, or Pam Hanfland.