Join us for In-Person Worship or Facebook Live-Stream.
Watch Sunday Worship live on Our Saviour Lutheran Church's Facebook page

(http://tiny.cc/oslcfb)

 or later on our YouTube ch

annel (http://tiny.cc/oslcyt)
If you prefer audio only, you can listen to the sermon by going to The Weblog of Pastor Lance Henderson (http://gointhismightofyours.blogspot.com). At the end of the post click on the words click HERE.
The Worship Bulletin, the Celebrate with scripture readings, and the Announcements listing the hymns can be

located on the menu under News and Resources

.
---
2021 WELCA COMMUNITY PROJECT
The Lydia Circle is responsible for offering a congregational outreach service project for 2021. Due to the devastation that Covid-19 has caused for many in our own community, we have chosen to support God's Helping Hands to offer support for those in dire need of assistance due to lost jobs. Many have been terminated from their employment or had to terminate their employment to remain home with children not going to school. There is especially a need for assistance with rent/housing payments to help prevent possible eviction. Lydia is collecting monetary contributions for "Project Rent" to assist our area families. If you know of someone in particular that needs immediate help, please contact Marie Lybrand at 803-397-0503. We are also reaching out to Thrivent to request their $250 gift contribution.
God's Helping Hands has also informed us that they are in need of new or gently used blankets. There will be a box in the Narthex for your blanket donations. However, a monetary contribution can be made at any time until April 30th.
If you would like to make a contribution to Project Rent, please make your check payable to OSLCWELCA and mail or drop it off at the Church dropbox. Please mark the envelope for WELCA–Project Rent. Should you have any questions or would like further information, please contact Marie Lybrand or Beverly Nivens.
God's Helping Hands
current needs are for dry and canned milk. Please place donations in the provided box in the Cameron Hallway.
SRAA Healthy Snacks
We continue to collect healthy snacks for students at SRAA. Students in need are given a bag with healthy snacks each Friday to put in their book bag to have over the weekend. We will collect snacks the first two Sundays of each month during the school year. The box for the collection of these snacks will be in the Narthex. Thank you again for your continued support.
Notecards for Sale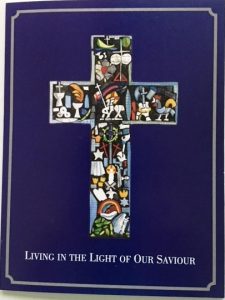 These beautiful all-purpose notecards and envelopes are available for purchase in packs of 10 for $5. Proceeds will go toward supporting a local charity. Purchases can be made by contacting Marie Lybrand, Kelly Heid, or Pam Hanfland.