CANDY DONATIONS NEEDED FOR OUR 2022 HALLOWEEN TRUNK OR TREAT!!
We need your help to make this a big success and super fun time for the children in our community, so we are asking for candy donations. Please make sure the candy you donate is individually wrapped. Your donations will be a big help in making this celebration a spooktacular EVENT!!!!
God's Helping Hands current needs are for regular oatmeal, mac & cheese, grits, jelly, fruit juice, Jiffy Mix, cookies, rice, and beans. Please put items in the box in the Cameron Hallway.
SRAA Healthy Snacks

We continue to collect healthy snacks for students at SRAA. Students in need are given a bag with healthy snacks each Friday to put in their book bag to have over the weekend. We will collect snacks on the
first two Sundays of each month
during the school year. The box for the collection of these snacks will be in the Narthex. Thank you again for your continued support.
Notecards for Sale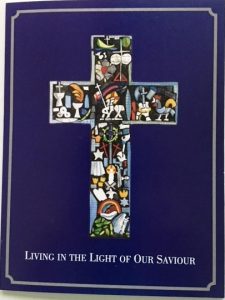 These beautiful all-purpose note cards and envelopes are available for purchase in packs of 10 for $5. Proceeds will go toward supporting a local charity. Purchases can be made by contacting Marie Lybrand, Kelly Heid, or Pam Hanfland.